If I understood you correctly, you are waking up companies.
Rogier Rijnja, SVP Human Resources, Numico Beheer B.V.
"Ms. Schneider significantly advanced our OPM workshop through her consistently applied methodology and structured approach. She managed, by means of her quick perception, to grasp our quite different views, thoughts and ideas, to direct them and to structure them in such a way that we were able to present a joint result in the end. I was impressed by how broadly we discussed some of the issues and how, thanks to her guidance, we consolidated the many post-its into a tangible result in the end. Happy to do it again!"
Markus Bock
Head of Operations
SALTIGO Ltd.
"Feedback on the facilitation went from very good to enthusiastic."
Managing director of an IT service provider
"Our multi-year international collaboration with GroupMind has brought us much more than just the knowledge and application of management tools that can be used to meet the challenges of today and tomorrow: With the help of GroupMind we have managed to grasp the human dimension as well, thereby placing our internal culture of collaboration on a much firmer and thus also more efficient footing.
The balanced integration of both – the human as well as the technical – dimension in the development of our organization is the exceptional achievement of GroupMind that has made sustainable success possible."
Hans-Werner Albrecht
Director Service Division
PENTAX Europe
"Simply smart, that's how I would describe Christiane. And by that, I mean she makes it simple and gets to the heart of what a meaningful next step is – for leaders and the organizations they lead."
Petra Sontheimer
Leadership Coach and SIY Trainer
"Working with Christiane Schneider really made our agile development program for project managers "fly". Their fresh, spontaneous and creative ideas invite us in the design phase and the implementation phase again and again to leave familiar paths and to go new ways. She always draws on her wealth of experience and personality, conjures up suitable methods, possibilities and ideas from her hat in every situation, and links the topics and people in the room quickly, intelligently and sensibly at all times. It is an excellent, very authentic and inspiring collaboration at eye level at all hierarchical levels because she lives what drives her: Her enthusiasm for change, organizational development and learning. Her genuine interest in new topics, groups and people is evident in every moment."
Elisabeth Bittner and Stephan Barta
Siemens Mobility GmbH
"Who talks to each other, how, when, why and with whom in the company, with which purpose, input, goal and for which 'tangible' results shows how success is created in a company. Christiane Schneider has powerfully shown us how to do things differently with her awareness-creating formats and effective tools. We're getting better results faster now because of them."
Stefan Kober
Chairman of the Management Board
Peter Hahn GmbH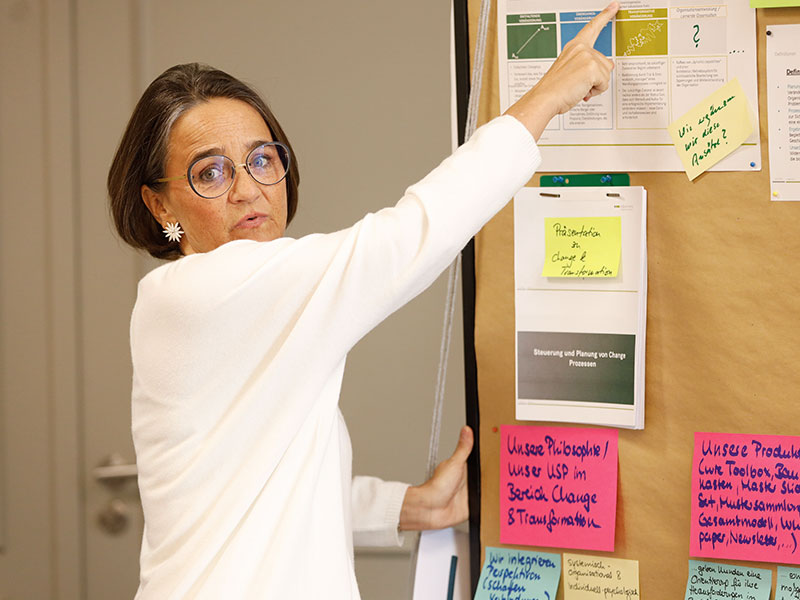 "I admire Christiane's clarity and drive in every moment of complex organizational change. She is truly a master agile facilitator and a true global mind. She has the ability to dive deep into any business problem at hand and lead leadership teams to quick and surprising solutions."
Simon Severino
Strategy Sprints
"Christiane Schneider/cidpartners has been accompanying us for many years and we benefit from their professional methods, which help us both to clearly structure the most complex mixed situations and to focus on what is really important. The mentoring has helped develop an organizational structure that helps us get relevant things done significantly more effectively."
Pascal Zier
Managing Director
Gourmondo Food GmbH
"Christiane has been an integral part of the Antigua Forum team since its inception. Her intimate knowledge of self-organizing systems, both in theory and practice, made her the perfect designer of the engaging, inspiring, and incredibly productive format we use at the Antigua Forum. She has remained with us as lead facilitator at every gathering, ensuring quality discussions and tangible outcomes. The Antigua Forum's favorable and growing reputation quite simply would not have been possible without her contribution!"
Giancarlo Ibarguen
Chairman
Antigua Forum